Gentle And Chair Yoga Maroochydore
Maroochydore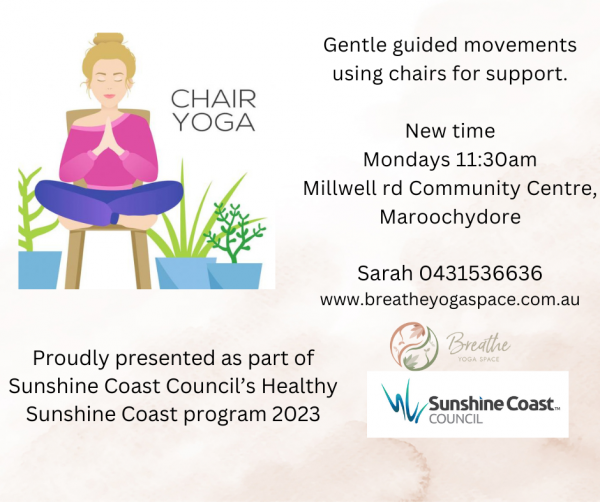 Proudly presented as part of Sunshine Coast Council's Healthy Sunshine Coast program. NEW DAY NEW TIME NEW PLACE
STarting Monday 3 July, Millwell rd Community centre, Maroochydore, 11:30 am.

Looking to begin yoga or find ways reintroduce yoga into your life?
This class is for anyone recovering from injury, new to yoga, or who may find balance and stability challenging without support. In this gentle class, we incorporate various seated and standing postures; you may use a chair for support, to build strength and stability whilst increasing our range of movement in the body. Along with gentle movements and mindful breathing, this is a lovely opportunity to bring a sense of inner calm and peace to both body and mind.

As a practicing Yoga Therapist and experienced yoga teacher, specialising in Teaching Yoga for Seniors, Mental Health Aware yoga and yoga for (DIS) Ability, you will find my classes are mindful, fun and adaptive to your individual needs.

Classes - $10 or $5 Health Care/pensioner card.
Link for Sunshine Coast Council registration

https://www.sunshinecoast.qld.gov.au/Living-and-Community/Community-Support/Healthy-and-Active/Healthy-Sunshine-Coast/Healthy-Sunshine-Coast-Activities
When:
Monday at 11.30am every week (next 04-Dec-2023)
Where:
Millwell rd Community Centre - Large hall. Marooch
11 Millwell rd
Maroochydore
[View Map]
Contact:
Sarah Chancellor e: sarah.breatheyogaspace@gmail.com

Book:
No booking required, just turn up. Please add your name to the Who's Going list to let others know you will be attending.
Views:
815 people have viewed this event
Keywords:
Gentle And Chair Yoga Maroochydore, Millwell rd Community Centre - Large hall. Marooch, Maroochydore, What To Do In Maroochydore