Pickleball at Currumbin
Currumbin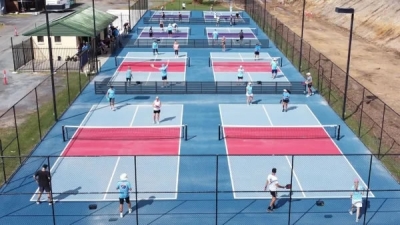 Pickleball Social Play session 8:00am to10:30am at the Gold Coast Pickleball Community Centre at Currumbin (weather permitting).

We welcome Beginners, Intermediate and Advanced players. A great way to be introduced to the game and also meet a great bunch of happy fun loving "Picklers". Club members will be there to welcome you and take you through the fundamentals of the game. Equipment is also supplied.

Fees for the day
- First visit $7 includes Paddle Hire.
- GCPA Members $7.
- Non-GCPA members $12.00. Paddle Hire $2.
When:
Wednesday at 8.00am every week (next 06-Dec-2023)
Where:
Gold Coast Pickleball Community Centre
164 Duringan St
Currumbin
[View Map]
Contact:
GC Pickleball Club e: info@goldcoastpickleball.com.au

Book:
No booking required, just turn up. Please add your name to the Who's Going list to let others know you will be attending.
Views:
322 people have viewed this event
Keywords:
Pickleball at Currumbin, Gold Coast Pickleball Community Centre, Currumbin, What To Do In Currumbin, Dink Shot, Kitchen, Drop Shot, Third Shot Drop, Pickleball Paddle