Easy Riders
Sunshine Coast
Warning: this event has been temporarily suspended due to coronavirus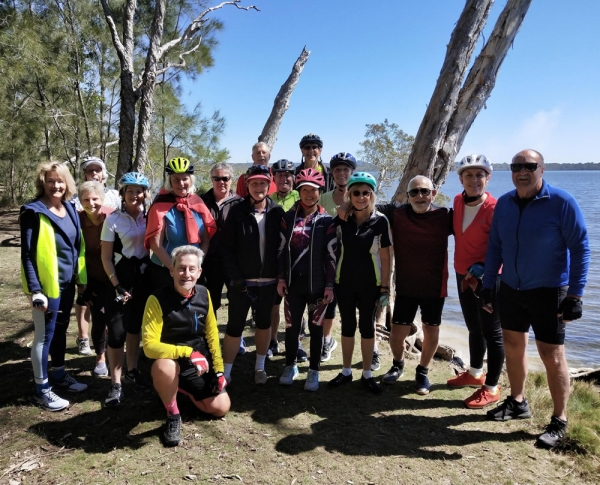 Join friends for a couple of hours of easy social riding, mainly on picturesque bike paths, with a coffee stop somewhere in the area of the ride.

A ride on mainly flat bike tracks. Each trip is about 25km to 30km round trip. Average speed is 16kph.

There are some beautiful bike paths on the Sunshine Coast and we try to keep things interesting by taking a different route each week.

Keep an eye on this site for a possible change of assembly point or start time. You can also add your name to Who's Going and we will email you any changes.

Please try to arrive at least 10 minutes early so we can get away at the scheduled time.

The group push off at the scheduled time. There is NO need to contact the ride leader if you cannot make it on a particular week.

For further details, please contact Paul or just add your name to Who's Going and come along for the ride.
When:
Monday at 7.30am every week (next 06-Apr-2020)
Where:
Various Locations
Car Park
Sunshine Coast
Contact:
Paul Jaynes m: 0410 064 969
p: 07 3102 4725
e: pauljoz@outlook.com

Book:
No booking required, just add your name to the Who's Going list to let others know you will be attending.
Views:
25156 people have viewed this event
Comment about this event:
Hi all

The message from the authorities seems pretty clear -minimize group activities wherever possible.

While group numbers of 10 are presently still acceptable to authorities we believe it would not only be hard to manage but also not in the best interests of the respective group members.

After discussion with David Friend we have decided to cancel all Monday(Easy Riders) and Thursday(Leisurely riders) rides, until further notice.

Hopefully, pretty soon , we can pick this up where we left off.

regards
Paul & Jacky Jaynes






Easy Riders have decided

Paul J on 25-Mar-2020

IMPORTANT MESSAGE REGARDING MONDAY'S RIDE...

Due to ongoing developments with the Covid 19 pandemic, and the latest social gathering restrictions issued by the Prime Minister tonight, the ride for tomorrow, 23rd WILL NOT proceed. The extension of restrictions on non essential organised social gatherings at a national level aimed directly at reducing the spread of infections within the community, has lead me to believe that it would be unwise to proceed with the ride. I believe that we should do all that is possible to comply with the guidelines to protect all in the community, especially the vulnerable.

For those who do not receive this message I will be in attendance at Crummunda Park at 7.30 am to speak to anyone that arrives to join the ride and explain the situation to them.

Les Ralston
0403003032

Les R on 22-Mar-2020

Hello All,

The ride for Monday 23rd will commence at the later time of 7.30 am at Crummunda Park, Coongarra Esplanade, Wurtulla. PLEASE NOTE THE START TIME OF 7.30 AM. The ride will be between 25 & 30 km with coffee stop still to be decided depending on the route taken. The starting point car park is across the road from residential housing so please be considerate of noise levels when arriving. Thanks.

Les
0403003032

Les R on 20-Mar-2020

Hi all

The weather held off today and allowed Marilen to lead a good ride, thanks for that.

we think it would be a good idea to use the change of season to change Monday ride start times , anyway as Summer is now over our start time will increase by half an hour to 7:30am , ride leads please note for future rides.

thanks all
hope to see you on a ride soon.

Paul J on 16-Mar-2020

Hi fellow cyclists

Rob Muston will be leaving us around the 27th of March to permanently live in Victoria, closer to his four sons and grandchildren.

As a farewell we are organising a get together

Thursday 19 March around 4 pm
Mooloolaba Spit - Parkyn Parade - BBQ area opposite fish & chips shops

Bring your on BBQ, food, drinks or support the local fish & chips shops

Anyone with Finska or a game we can play - please bring it along

All are welcome - pass it on to however may want to join us

Lets hope for a sunshine if not we can meet at The Deck above fish & chip shop

Cheers
Marilen
0408 743 205

Marilen G on 15-Mar-2020

Hello fellow cyclists

Our next ride will be on Monday 16 March at 7am from
Muller Park, Bli Bli
Muller Park Road - off David Low Way - near Aqua Park

We will head north.

Lets hope we can get a dry ride.

Cheers
Marilen
0408 743 205

Marilen G on 12-Mar-2020

Morning all,
Due to wet conditions, the ride is cancelled today; sorry.
Hope to see you all next time.
Carol. 😊

Carol H on 09-Mar-2020

Morning Easy Riders.
Our ride for Mon 9th March will leave from the Cricket grounds car park on Syd Lingard Dr Buderim at 7am.
Hopefully the weather will be ok; and normal bikes are ok for this ride as it is mostly paths.
Looking forward to catching up with you all.
Carol. 😊
0422894453

Carol H on 06-Mar-2020

Hi All
BRIBIE ISLAND ride leaving Monday 02 March 9.30am
DIRECTIONS. Proceed to the end of Hornsby rd beside the Bribie Shopping Center to the car park

RIDE. The ride is flat and will be approx 35ks with several breaks and a stop at the RSL cafe for food and drink.

Regardless of weather conditions I will be there the latest 9.15am.
Please ring me on 0423810421 if you have any concerns.
Hope to see you there
Regards
Norm R

Norm R on 25-Feb-2020

Hi All.

The next Monday ride on the 24th Feb will be lead by Brian. (mob 0428696555)
Starting time 7am from Mudjimba beach car park.
Further details will be advised by Brian at the start of the ride.

ENJOY

Norm R on 20-Feb-2020

EASY RIDERS - Monday 17th February 2020

Join Greg and Heather for a very flat 24/25km ride through Golden Beach and Pelican Waters.

Meet at Military Jetty carpark, 131 Esplanade, Golden Beach for a 7:00am start. Lots of spots.

Coffee after 14/15kms at the lovely Sebel Pelican Waters Resort and a flat ride home from there.

Greg - 0406 972 935
Heather - 0433 547 574

Greg N on 12-Feb-2020

Hello all,
Just letting you know that I am relinguishing the role of organising the Easy Riders.
After more than 4 years, and another injury, I feel it is due time to pass it onto someone else.
Thanks for your support
Cheers Jillie

Jillie R on 07-Feb-2020

Hello all,
Just letting you know that I am relinguishing the role of organising the Easy Riders.
After more than 4 years, and another injury, I feel it is due time to pass it onto someone else.
Thanks for your support
Cheers Jillie

Jillie R on 07-Feb-2020

Hi All

Its my ride Monday 10 Feb.

We will take a modest 23km ride through Mountain Creek and Mooloolaba , coffee at the spit.

meet at Woolies car park ,Mountain creek shopping center for 7am start.

note weather may affect where we go and coffee stop … to be decided on the day.

regards
Paul & Jacky

Paul J on 07-Feb-2020

Ride for 7.00am Monday 3rd Feb 2020

Leave from near Maroochy Bridge Hotel, 22 Denna Street Maroochydore (just off Bradman Avenue). I think Google map address is
https://goo.gl/maps/TrESPAmtZTELrmBq9

Ride to Bli Bli, then Bradman Avenue, around Sunshine Plaza behind David Jones, then Sunshine Cove and back to Denna St. Coffee most likely at Caffe Cherry Beans on the Promenade, Sunshine Plaza. Ride is probably about 25 km,

Some minor hills in Bli Bli and Maroochydore.
Should be no gravel. Ride is on secondary roads, footpaths and bike tracks with a number of road crossings

David Hall 0427 401 583

David H on 31-Jan-2020

Good afternoon riders......your ride for next Monday 27th January will be led by Brian.
It will leave from the Mudjimba Beach carpark.
Starting time 7am and coffee at Twin Waters.
See you all there. Cheers Jillie

Jillie R on 23-Jan-2020

PLEASE NOTE

THAT THE RIDE JUST ADVERTISED MON 20 TH JAN IS FROM BUNNINGS COLOUNDRA.

Norm R on 17-Jan-2020

Hi All
Next Monday's ride on the 20 th Jan will leaving from BUNNINGS Car Park Latcham Rd end.
We will leave at 7 am and ride approximately 25 klms. Coffee stop to be advised.
Any queries please contact Annette the ride leader on 0438913095.
Look forward to seeing you all there.

Norm R on 17-Jan-2020

Sorry - the correct start time for this Mondays ride is 7AM (not 7.30).

Greg N on 10-Jan-2020

NOTE Correct start time is 7am NOT 7.30am

Greg N on 10-Jan-2020

Our ride on Monday 13 January 2020 Starts 7:30am from Leach Park, Short Street, Golden Beach near Outrigger Canoe Club off Landsborough Parade. 26 kms easy flat ride to Pelican Waters. Coffee at Chill 89 Cafe ( formally Moorings Cafe).

Greg & Heather leading.

Contact 0433 547 574

Greg N on 10-Jan-2020

Our ride on Monday 13 January will start at 7.00am from Leach Park, Short Street, Golden Beach near Outrigger Canoe Club off Landsborough Parade.
26 kms easy flat ride to Pelican Waters.
Coffee towards the end of the ride at Golden Beach.
Greg & Heather leading.

Contact 0433 547 574

Greg N on 08-Jan-2020

Who's Going:
Paul J&nbsp&nbsp
Keywords:
Easy Riders, Various Locations, Sunshine Coast, What To Do In Sunshine Coast, Easy Riders, Bikes, Bicycles, Sunshine Coast Bicycle, Bicycle Paths, Bike Paths, Sunshine Coast, Cycling, Bike Ride, Cycling Sunshine Coast